The Limited Run Games 2021 Showcase announced a line-up of 30+ indie darlings and AA masterpieces that are receiving their very own physical editions.
What Was Announced?
At the forefront of boutique physical publishing, Limited Run Games mostly pulls from indie successes yet to see physical releases. They have published everything from AA efforts to forgotten classics abandoned on retro hardware years ago. Though there wasn't much new to see, Limited Run's brief short sketches and collaborations with Mega 64, along with a couple of surprise unannounced releases, made it a show worth seeing.
There have been so many events over these past few days that we understand not everyone has the time to catch them all. So, for those who missed the Limited Run Games showcase, we've compiled a list of everything announced. Those who do want to watch the whole event can do so here. Without further ado, here is everything that was announced during the Limited Run Games 2021 Showcase.
The Announcements
River City Girls 2
River City Girls, a spin-off of the classic beat-em-up series Kunio-kun, is getting a sequel. Released back in 2019, the first game reversed the roles of River City Ransom, with the girlfriends of Kunio and Riko punching and smashing through an army of baddies to free their boyfriends in co-op or singleplayer.
The showcase only showed an artistic rendering of the two new protagonists. But we can assume there is more beat-em-up action to come. It currently doesn't have a release date. However, physical and digital versions are coming to Playstation 4, Playstation 5, and Nintendo Switch. Digital-only versions will be coming to the Xbox Series X/S, Xbox One and PC.
River City Girls Zero
In other River City news, the original Super Famicom spin-off Shin Nekketsu Kōha: Kunio-Tachi no Banka, which served as the inspiration for the River City Girls, is getting localized. A physical and digital release is planned for the Nintendo Switch, PS4, and PS5.
River City Girls Port
2019's River City Girls is arriving on PS5 with a physical and digital release.
Shantae Collection
Alongside the recent PS4 and Switch physical and digital releases of the tropical Metroidvania series, Limited Run will produce a new set of physical editions for PS5. The releases include the original Gameboy Color game Shantae, Risky's Revenge, the Pirate's Curse, Half-Genie Hero, and the Seven Sirens.
Contra Anniversary Collection
As a part of Limited Run's continued partnership with Konami, a physical release of the Contra Anniversary Collection is coming to Switch and PS4. This package comes with five games from the classic run and gun series, including Contra, Super Contra, Contra III: The Alien Wars, Operation C, and Contra Hard Corps. An extra five are included but will be region-specific or arcade originals.
Castlevania Requiem
The Castlevania collection of Symphony of the Night and Rondo of Blood is also receiving a physical version on PS4. Though Symphony of the Night needs little introduction as a godfather of the Metroidvania genre, its lesser-known prequel is often overlooked. Unfortunately, its unforgiving difficulty is likely to keep it that way, despite some truly excellent presentation and fluid deliberate combat.
As a surprise, Rondo of Blood is also receiving a reprint and localization on the original console it debuted on. A reprint on the obscure redesign of the TurboGrafx-16, the TurboDuo.
Zombies Ate My Neighbors & Ghoul Patrol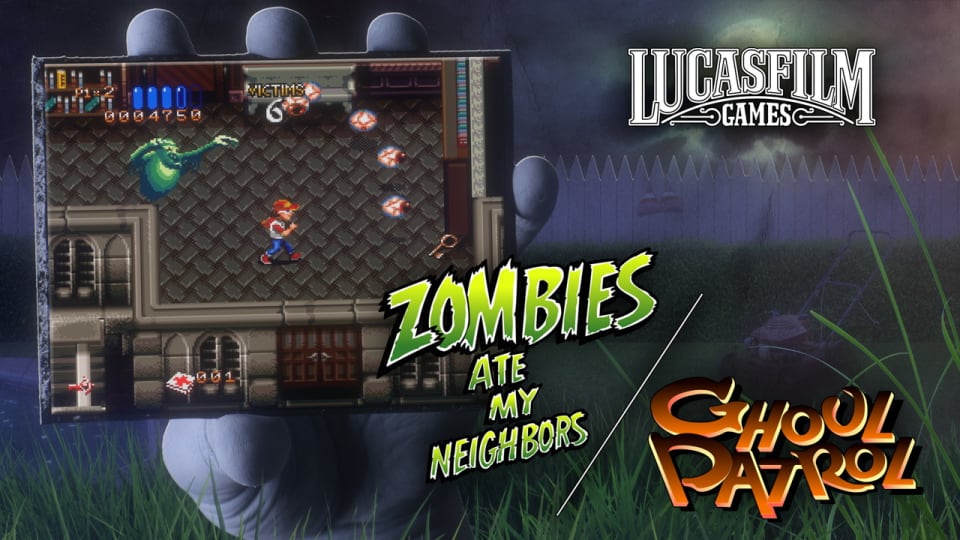 The well-loved top-down zombie beat-em-up and its sequel had Switch and PS4 ports announced last month. Now Limited Run is producing physical Switch and PS4 editions, along with collectors editions and reprints for the Sega Genesis and the SNES. The new ports include a new save system, a museum gallery with developer interviews, and more. All editions will be available for pre-order on June 18.
Odds and Ends
Axiom Verge 2 – The critically lauded Metroidvania Axiom Verge is getting its sequel published physically on PS4, PS5, and Switch.
Huntdown: Collector's Edition – This hi-bit run-and-gun game is available physically now in a collectors edition for PS4 here.
Double Dragon & Kunio-kun Retro Brawler Bundle – It is a collection of 18 NES and Famicom Brawlers, with many Kunio-kun games localized for the first time.
Dusk – David Szymanski's explosive throwback FPS is getting a physical edition on Switch.
Plumbers Don't Wear Ties – The cult classic FMV 3DO game is releasing physically and digitally on Switch and PS4 with a digital-only PC release in 2021.
RWBY: Grimm Eclipse – The popular web series hack and slash adaptation is coming physically to Switch.
Haven – The romantic action and exploration game from the creators of Fury is coming physically to Switch, PS4, and PS5 in 2021.
Going Under – This bizarre dungeon crawler is coming physically to Switch and PS4.
SkateBird – The upcoming trick-based, bird-based, Tony Hawk-influenced skateboarding game is getting a physical release on Switch on Aug 12.
Strife – An early overlooked innovator in the FPS genre, Strife is making its way over to Switch in a physical package.
The Takeover – This stunning beat-em-up is heading to Switch and PS4 and getting the physical treatment.
BloodRayne Betrayal: Fresh Bites – It is a gleefully gory hack and slash rerelease with some major voice actors behind its characters. It's arriving in a box on Switch and PS4.
RetroMania Wrestling – This wrestling throwback is coming physically to Switch and PS4.
République: Anniversary Edition – Sneaking into physical collections, République is coming to PS4 and Switch, with PSVR support.
SUPERHOT – The landmark 'time moves when you do' FPS is coming physically to Switch and PS4.
One Step from Eden – Released in 2020, One Step From Eden is a real-time card combat game with rogue elements. Its physical editions are coming to Switch and PS4.
What Did You Think?
While a decent amount of the releases were teased before E3, there were some pleasant surprises announced here. Some of the games featured had slipped my radar, such as the stylish action of The Takeover and Huntdown. Weird releases like the Turboduo version of Castlevania Rondo of Blood can't help but excite me even for just the novelty of it. And we can never have enough old classics come to modern platforms. I think it is about time I play through River City Girls to prepare for the new releases.