It is that time of year again. Leaves are turning from green to yellow and orange. The days are getting shorter, and the crisp fall air is coming — unless you live in Australia. Haunted houses everywhere are opening their doors. Horror fans rejoice! Now is the time to enjoy the spookiest time of year throughout October with some great horror games.
To celebrate the season, the team here at The Game Crater dug into the darkest recesses of our minds. We swept aside bones and cobwebs to unearth a list of horror games to enjoy in between your movie binges and Halloween activities.
You might be looking for an action-packed experience, blasting through waves of unspeakable horrors. Or maybe you have an urge to creep through tense psychological slow-burning horror. Perhaps that is too stressful, and you want to play something a little light on scares but full of Halloween spirit. Regardless of your interest, check below for all of your horror game needs.
We have divided the list into four categories to make it easier for you to find what interests you this October. These categories are not necessarily mutually exclusives, so some games could fit under multiple categories.
Action Horror
Action Horror refers to experiences focused on combat without significant limitations on ammo and weapons, healing items, and other equipment. In other words, blast away at everything that comes at you.
Alan Wake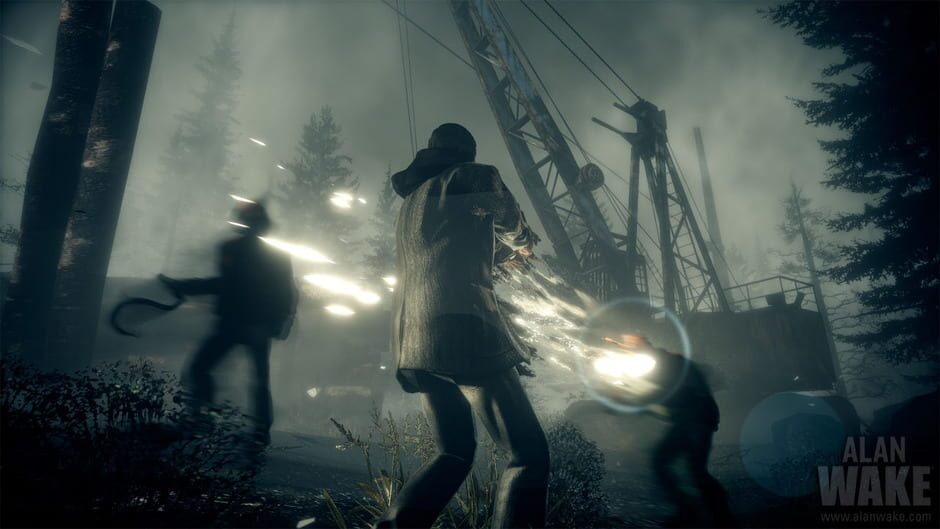 With an upcoming re-release on October 5, now is the perfect time to play the beloved cult classic. Players take on the role of the troubled titular writer, Alan Wake, who, in search of his missing wife, must journey through the dark corners of the seemingly benign resort town of Brightfalls. Alongside experiencing a thrilling Twin Peaks-esque narrative, players must defeat dark silhouettes by using their trusty flashlight before blasting them with more conventional weapons. This mechanic is not only an expertly conveyed metaphor but an excellent tool used in a variety of different contexts.
Excellent narrative and characters
Unique 3rd person action mechanics
Limited survival horror game mechanics
Available For: Xbox 360, Xbox One, PC, and PS4 and PS5 after October 5
~ Max Mitchelson
Bloodborne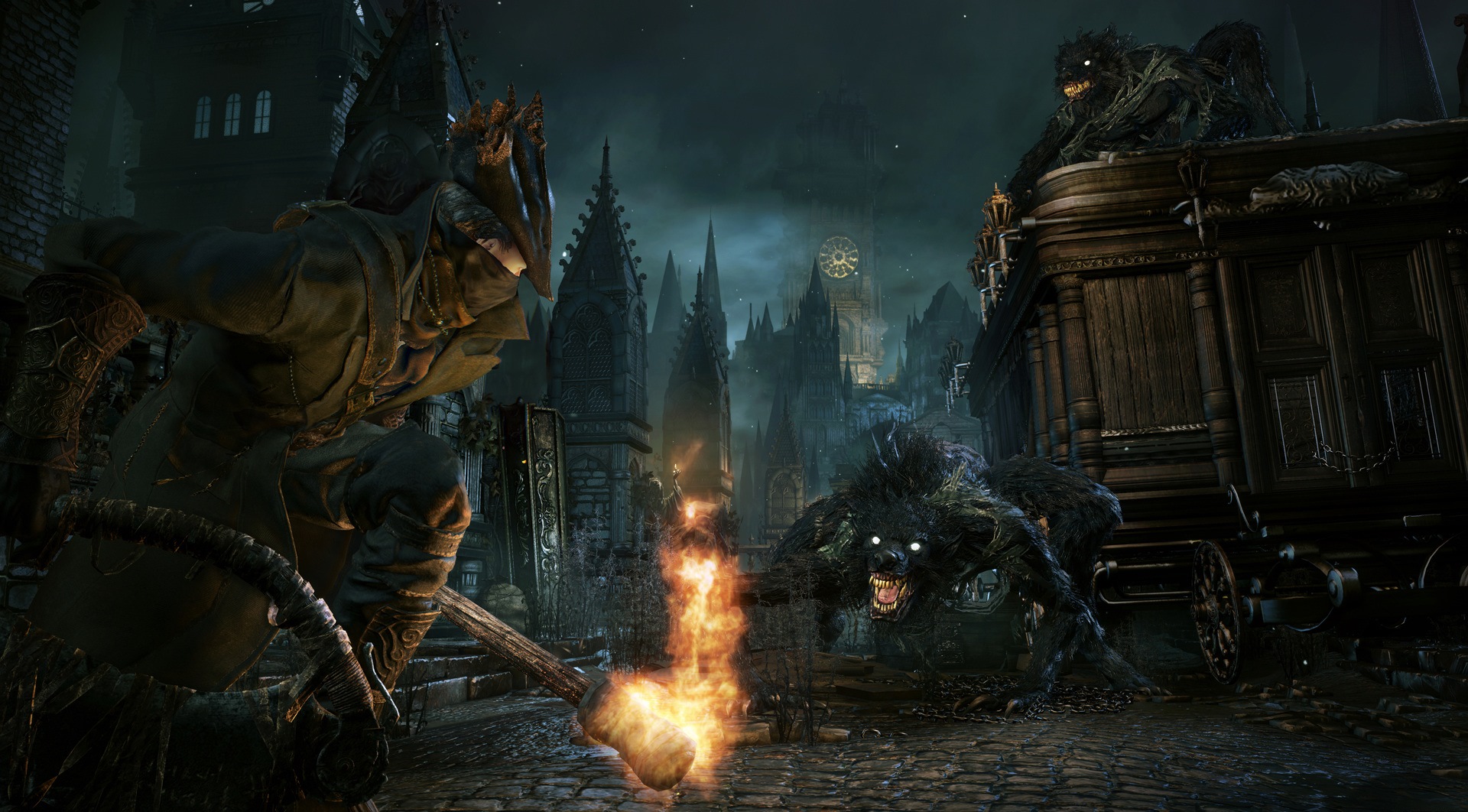 Bloodborne, from the renowned developers of Dark Souls and Sekiro: Shadows Die Twice, is the perfect combination of challenging and scary. You play as a lone hunter, searching for the awakening of your endless nightmare in a city cursed with an endemic illness. The game is practically dripping in Lovecraftian horror, with the world of Yharnam built upon gothic architecture and crawling with cosmic creatures. The demanding nature of the game's combat combined with the ghastly imagery makes Bloodborne the epitome of action role-playing horror games.
Deep, rich lore and atmosphere
Impactful & fluid combat
Truly horrifying enemy design
Available For: PS4, PS5
~ Henry Yu
Dying Light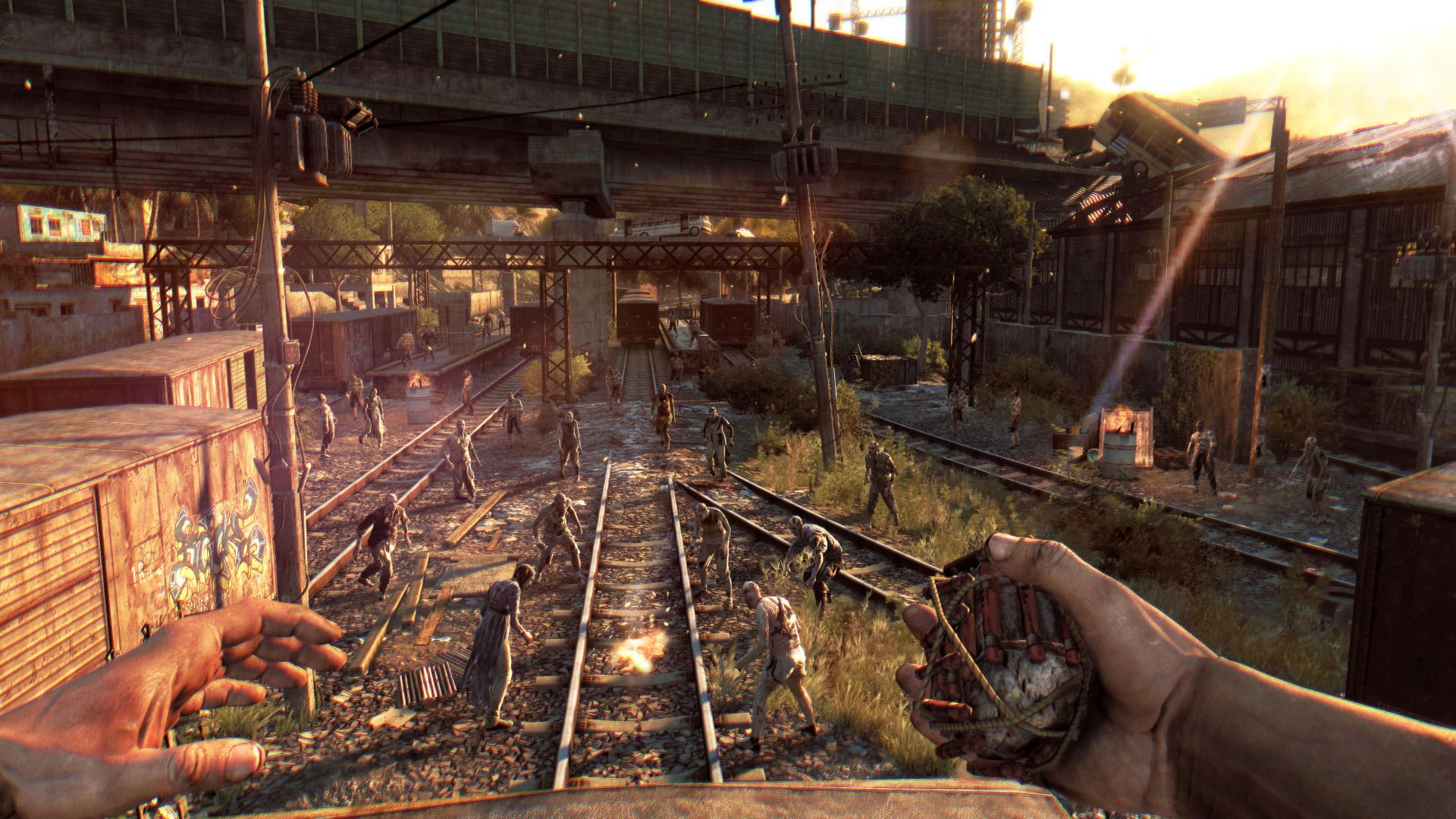 Dying Light was a total surprise for me. It is an open-world horror game with a day and night cycle. During the beautiful sunny days, monsters are deadly but avoidable. Of course, all that changes when the first night rolls around. When night falls, you better be ready to fight for your life or run like hell. The game also heavily features some wonderful parkour mechanics, allowing you to scale obstacles, jump across rooftops, and generally just do whatever you can to escape the Virals. As a bonus, a sequel is coming soon, so there's no better time to jump into Dying Light!
Dynamic day and night cycle
Massive open world
A blend of traditional survial horror and action gameplay
Available For: PC, PS4, PS5, Xbox One, Xbox Series X/S, Switch (After October 19)
~Ric Oldroyd
Survival Horror
Survival Horror is all about resource management, limited weaponry, and avoiding combat when possible.
Resident Evil 7: Biohazard
It's probably hard to find a game that does true survival horror better than Resident Evil 7: Biohazard. Not only does it show off the RE Engine — which boasts a variety of rendering techniques to produce highly realistic human skin — it also single-handedly saved a troubled franchise by bringing it back to its roots. Resident Evil 7 puts you in the shoes of Ethan Winters as his search for his missing wife leads him to an abandoned house where a treacherous family harbours a great evil. This is the first game in the series to use the first-person perspective, allowing for a more immersive experience. What starts off as a generic missing person plot turns into something far more insidious. It is also completely playable in virtual reality.
Beautifully crafted characters and environment
Terrifying gameplay that pays homage to true survival horror
Excellent visuals and voice acting
Available For: PC, Xbox One, Xbox Series X/S, PS4, and PS5
~ Henry Yu
Lamentum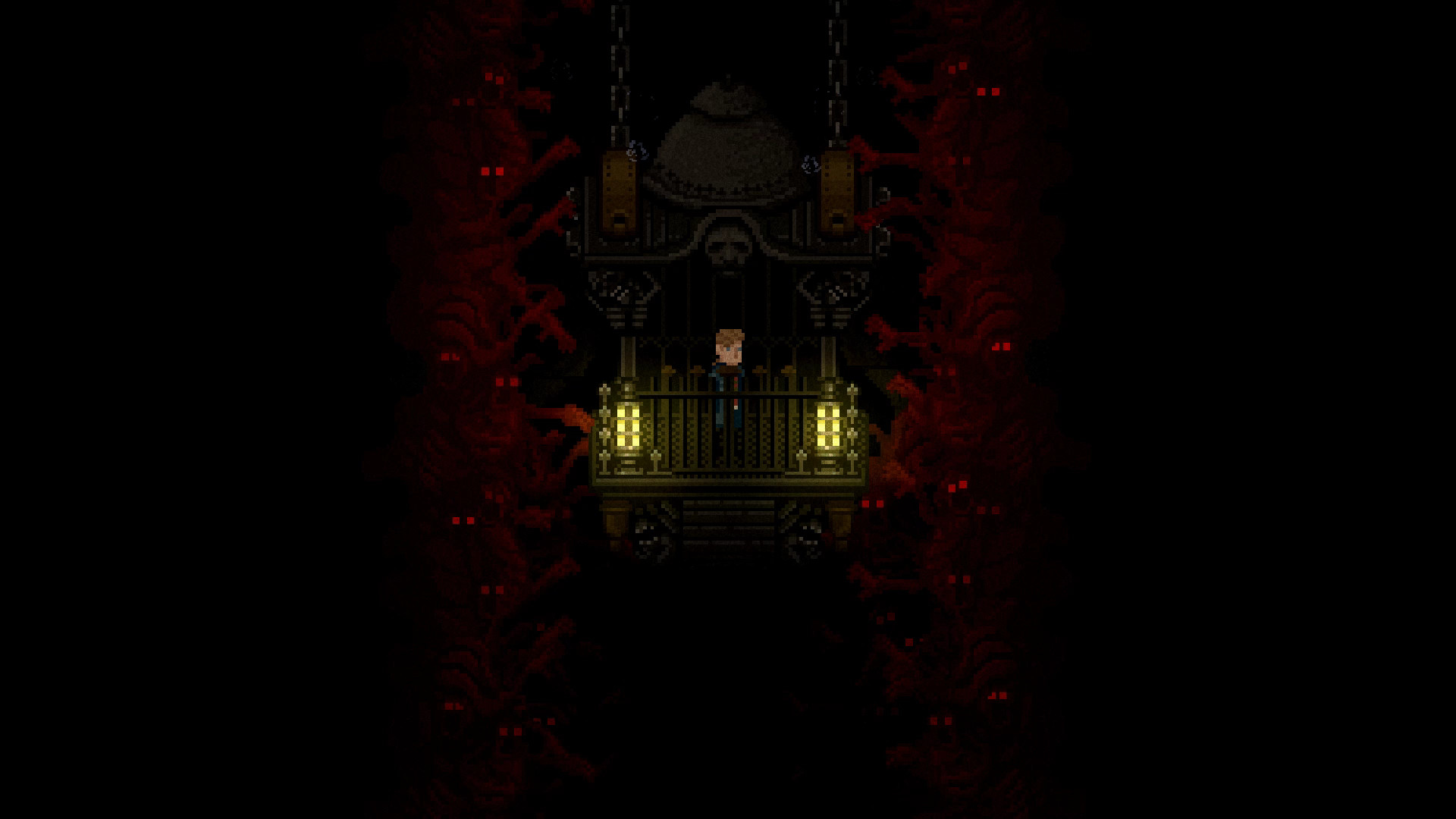 It's not every day you see a pixel art horror game. Lamentum takes inspiration from classic Resident Evil and Silent Hill titles and creates a horrifying tale of Lovecraftian sorrow. Lamentum's tale follows the aristocrat Victor in search of a cure for his wife's deathly illness. After traditional medicine fails, he decides to seek the help of an enigmatic figure known as Count Steinrot in a mysterious place called Grau Hill, only to be dragged into the mad history of a manor that goes beyond what he sees in the flesh. It makes excellent use of the ink ribbon save system design from the Resident Evil series and limits your ammo and weapons to create a true horror experience.
Great atmosphere and sound effects
Pays homage to classic Resident Evil and Silent Hill
Multiple endings based on your decisions
Available For: PS4, PS5, Xbox One, Xbox Series X/S, Switch, PC
~ Henry Yu
Alien: Isolation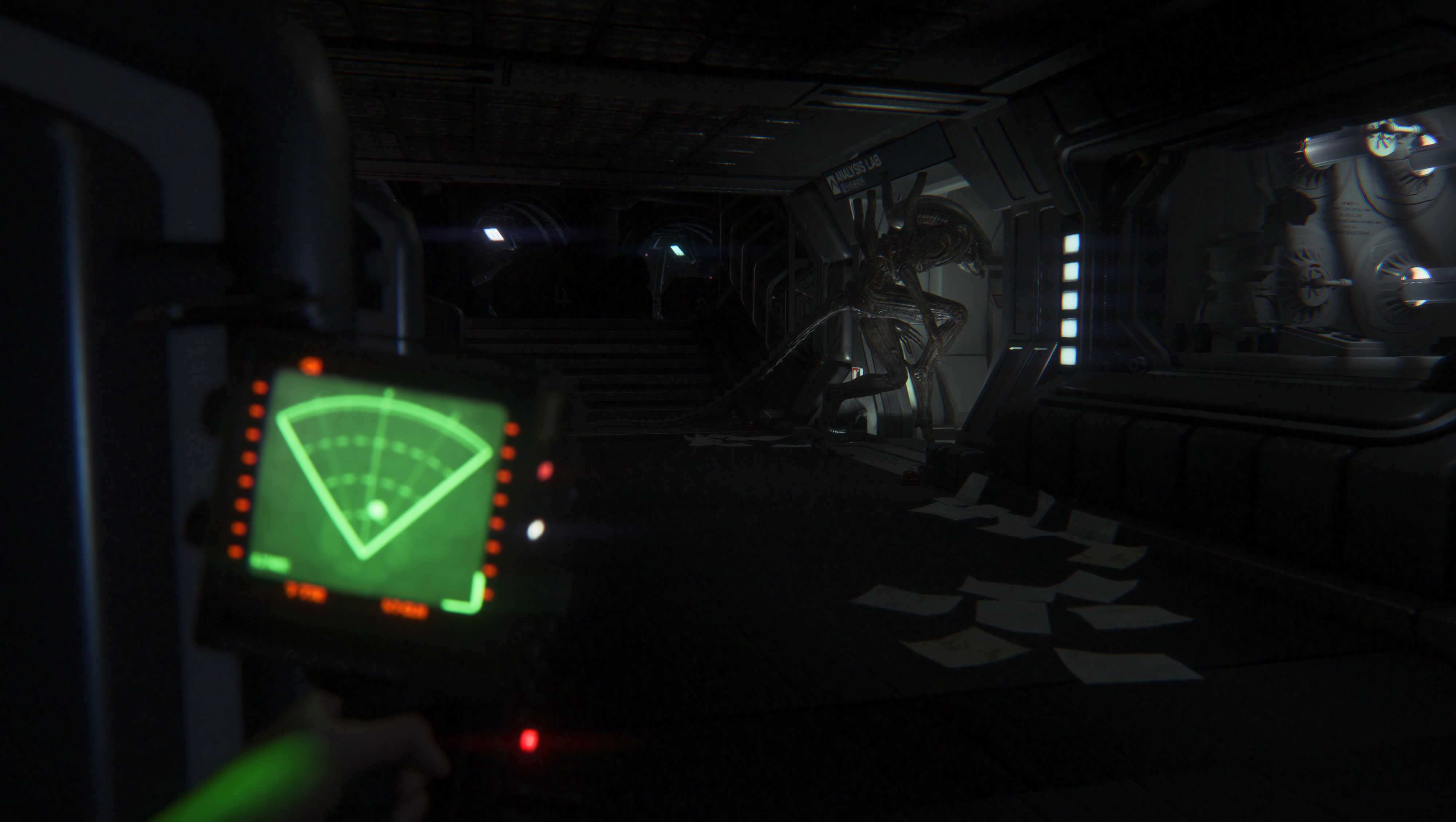 The Alien series has a long and muddled history. But it all started back in 1979 with a claustrophobic and unexpected horror movie. The sequels and prequels have taken the series in all directions, but Alien: Isolation tries to focus on that original idea. Picking up from the original film's storyline, you play Amanda Ripley, the daughter of the films' protagonist Ellen Ripley. It throws you into what the title suggests: isolation. The first-person viewpoint lends to the fear and feeling of actually being there. When the Alien itself shows up, run. Run for your life.
Really ties in to the original movie
Claustrophobic and terrifying
The best Alien game to date
Available For: PS3, PS4, PS5, Xbox 360, Xbox One, Xbox Series X/S, Switch, PC
~Ric Oldroyd
Pyschological Horror
Psychological horror is often not driven by combat and instead focuses on exploration, stealth, and puzzle-solving. This subgenre also frequently creates visual, auditory, or narrative illusions and is even known to bend its systems for a good scare.
OMORI Are you looking for a psychological horror that will play with your heart, rip it out, and then stuff it back in? Join Omori and his friends on a whirlwind adventure through the vast lands of an overactive imagination. Full of bright 16-bit graphics and music so good you'll be listening for months after, this game is brimming with wacky characters and foes to fight. Earthbound-style combat is reinvented using a unique emotion system that will keep you playing for hours. But be warned, sometimes a strong imagination can create monsters from the dark. An exceptional narrative and a heart-wrenching plot make OMORI an experience you'll never forget. Go into the story with as little knowledge as possible, and when you finally manage to put the game down, come back and thank us later.
An unforgettable story
Earthbound-style combat
Frequent Battles
Strong themes may not be suitable for everyone
Available For: PC
~Jasmine Sali
Anatomy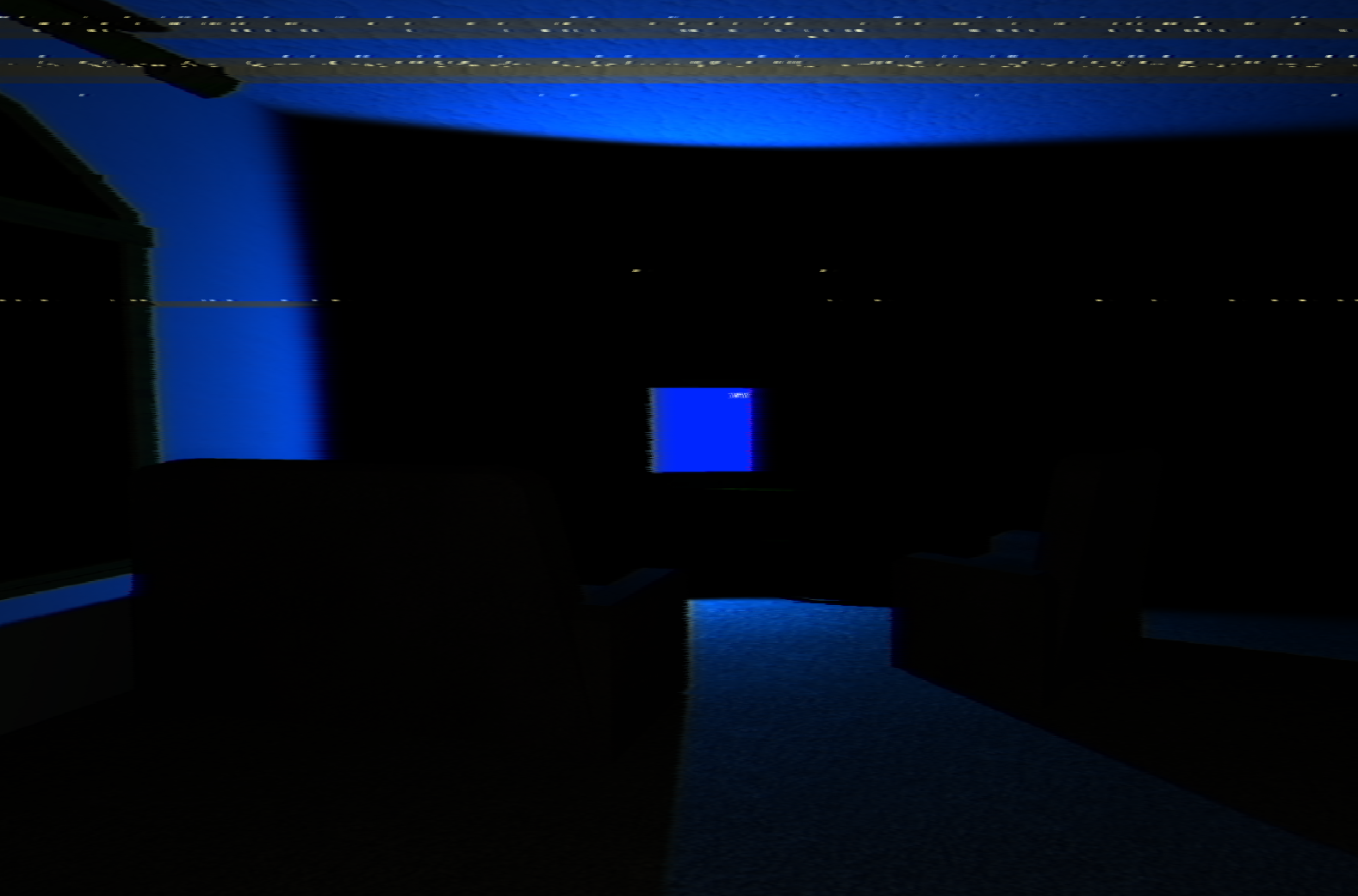 Anatomy is a short horror game all about the dark corners of an abandoned home. It is a simple walking simulator with no combat or enemies, yet it is one of the most terrifying games I have ever played. As with many of developer Kitty Horrorshow's other games, Anatomy is a mediation of locations and buildings and their relationship to us. Kitty Horrorshow explores our fascination with abandoned places and hauntings. It gets a little bit heady with its commentary playing out as you discover objects in the environment and unlock more rooms in the home. But, if you are looking for something short, atmospheric, and packed with meaning, check this out.
Short and cheap
Atmospheric with no enemies
A game about abandoned places
Available For: PC
~Max Mitchelson
Lost in Vivo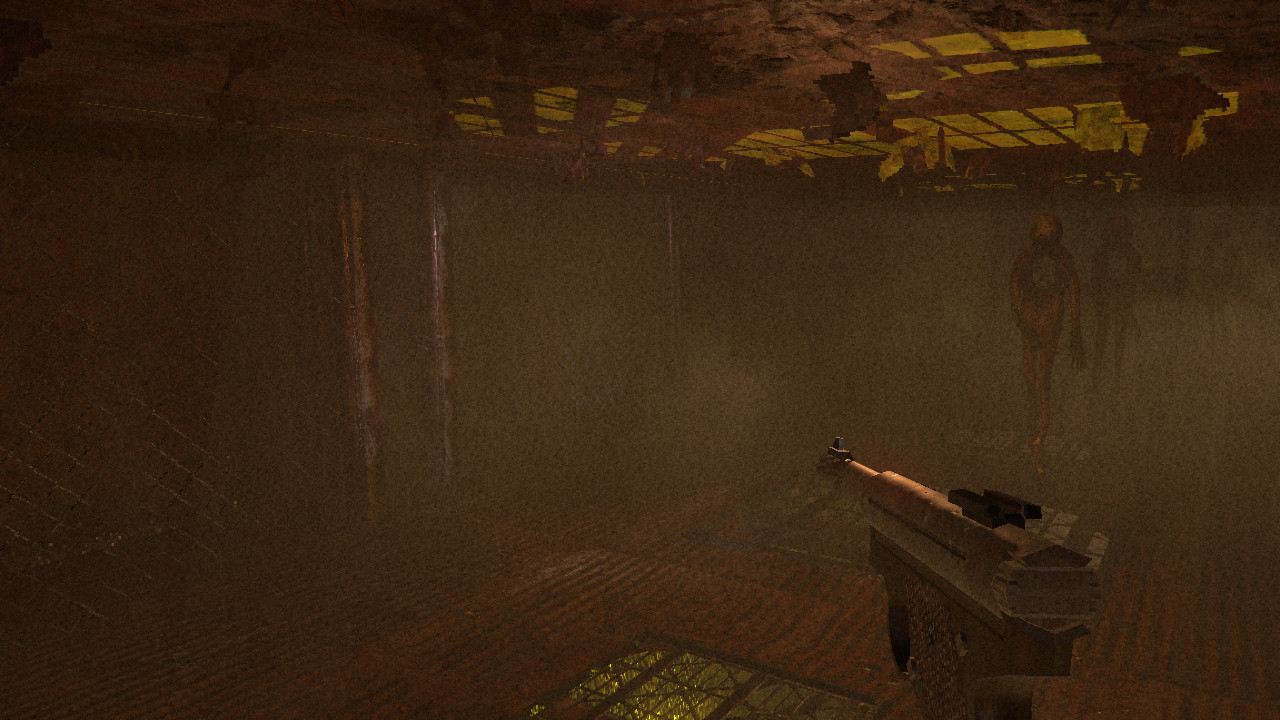 Get your vocal cords ready. Lost in Vivo is a horror FPS that will have you screaming. On a journey of overcoming fear and finding missing dogs, you follow the protagonist into claustrophobic sewers. However, you quickly discover that there is more to be scared of than just tight spaces. This is a must-play for Silent Hill fans who love an unsettling atmosphere and an unsettling story even more. Subtle scares and messing with the player's head is where this game excels. Lost in Vivo takes full advantage of the unseen. The retro PS1-styled graphics will have you both terrified and nostalgic while you collect lore and complete the multiple endings. Although it is a short game, Lost in Vivo is the perfect length for a Halloween all-nighter. That is if you're brave enough to face your fears.
A first-person shooter with puzzle elements
Retro PS1-style graphics
Combat focused
Short (4-6 hours)
Available For: PC
~Jasmine Sali
SOMA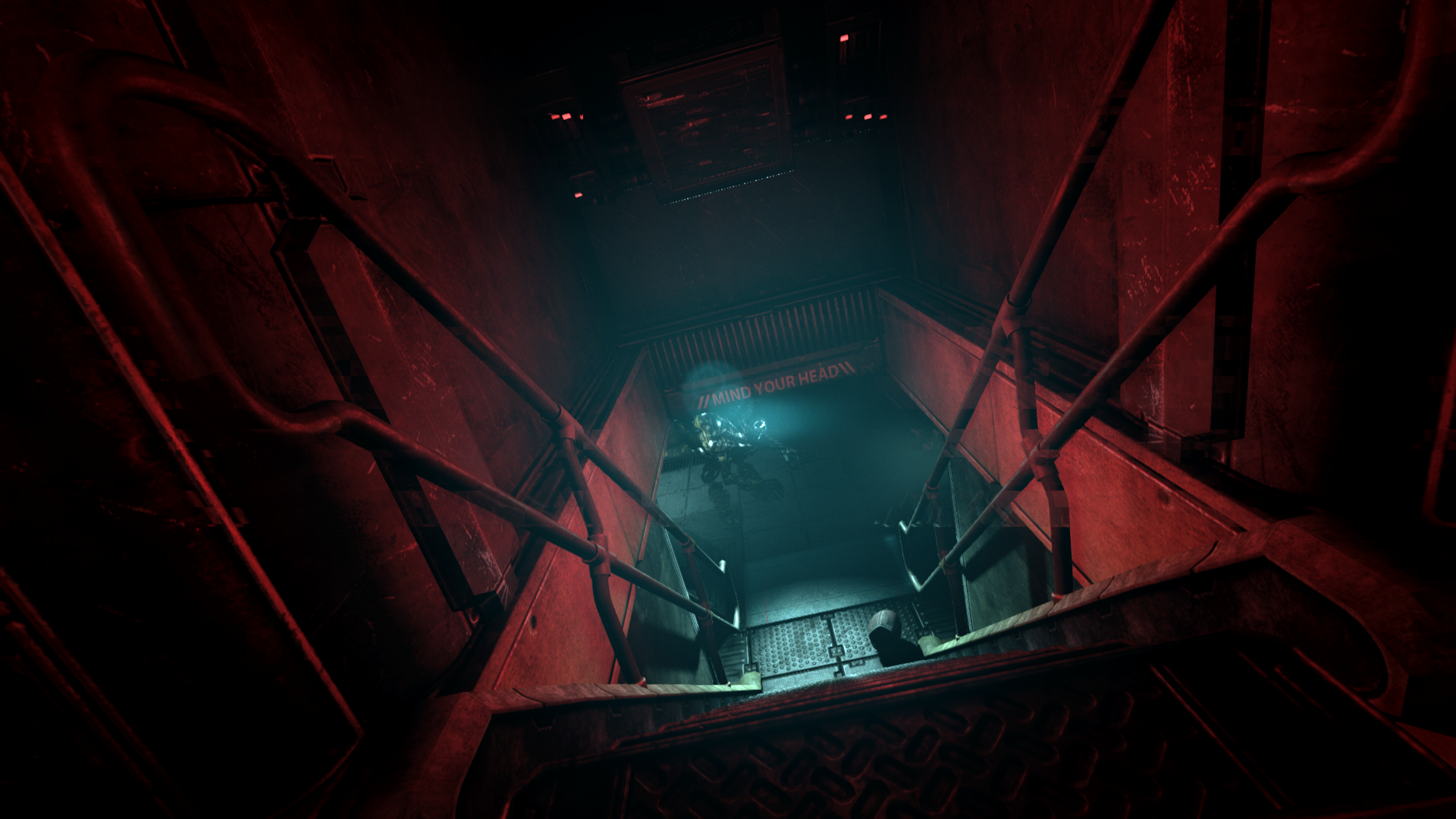 With an excellent narrative about artificial intelligence and apocalypses, and an atmosphere only surpassed by legendary works like Silent Hill 2, SOMA is a must-play for horror fans. The psychological horror masters at Frictional Games have players follow a man after an experiment plunges him into the far future, deep into an abandoned underwater facility. To escape, you must dive even deeper. There are so many twists and turns to this story that I can't say any more. Just know there are plenty of secret documents to read, terrifying enemies to avoid, and occasional interactions. There's also a hefty amount of dialogue to break up the tension. The game is also gorgeous, reminiscent of Bioshock's Rapture, mixed with classic Frictional level design and art direction. As a bonus, SOMA also offers a mode that prevents enemies from seeing or attacking you, for those in it for the story and atmosphere.
Intriguing narrtive, characters, and themes
Unique setting
Optional mode removes the threat of eneimies
Available For: PC, PS4, PS5, Xbox One, and Xbox Series X/S
~Max Mitchelson
Not too Scary!
As it says these are more horror-themed games than proper horror experiences.
Carrion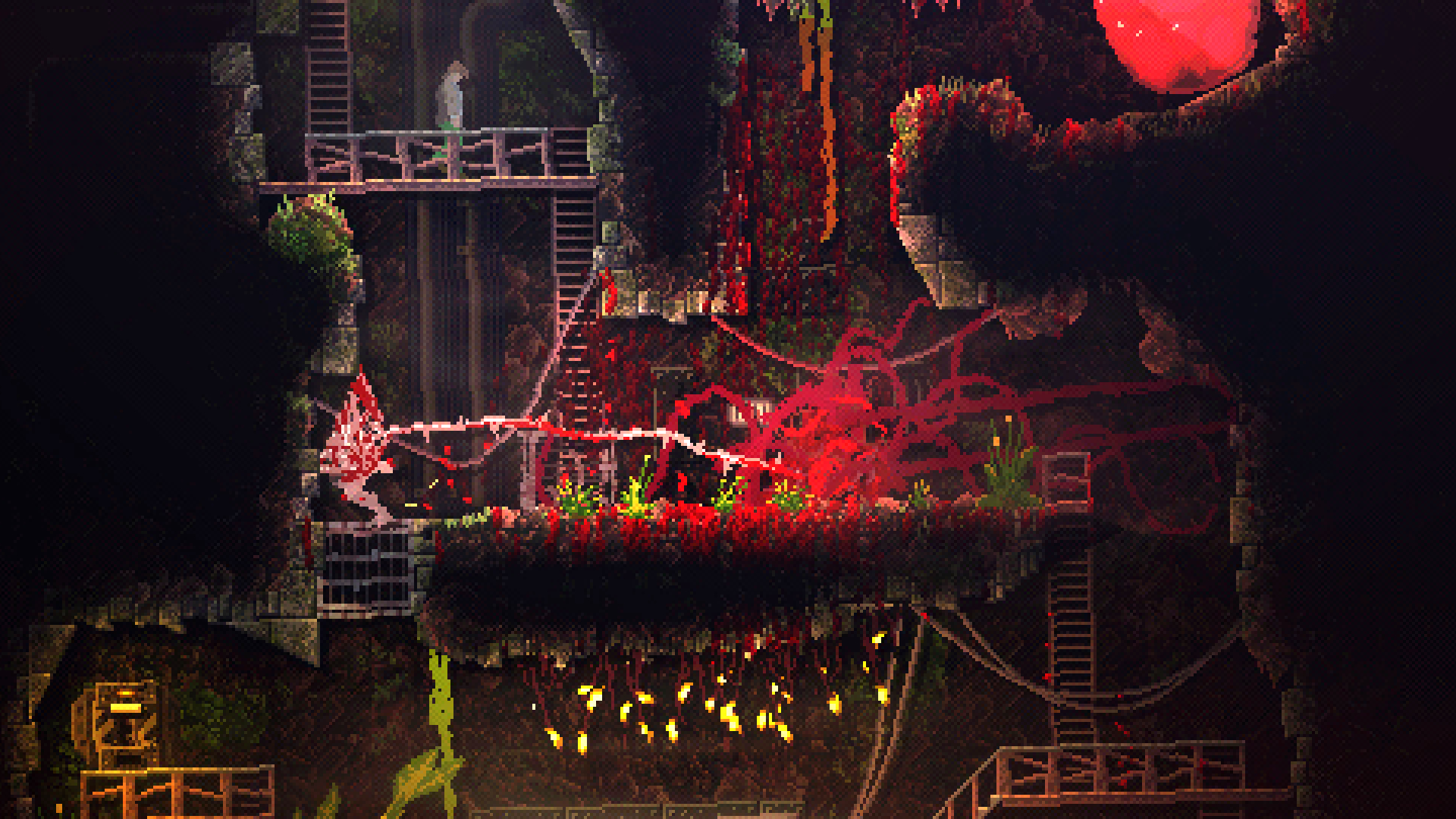 After years of endless torment facing down horrifying creatures with unmatchable strength and size, horror gaming can get a little exhausting. This unique reverse-horror game turns the tables. In Carrion, you play as Lovecraftian nightmare, with a suite of powerful moves to eliminate the scientists that created you. It's a fun twist that allows you to recreate iconic horror moments while doubling as beautiful 2D stealth Metroidvania, which strikes a perfect balance between power fantasy and a decent challenge. While the main campaign is rather short, it also includes a prototype level unlocked upon completion, optional hidden power-ups, and a free DLC level. In total that's between 6-10 hours of gameplay.
Innovative mechanics and movement systems
Reverse-Horror Metroidvania
Beautiful Hi-Bit Pixel Art Style
Available For: PC, PS4, PS5, Xbox One, Switch, and Xbox Series X/S
~Max Mitchelson
Luigi's Mansion 3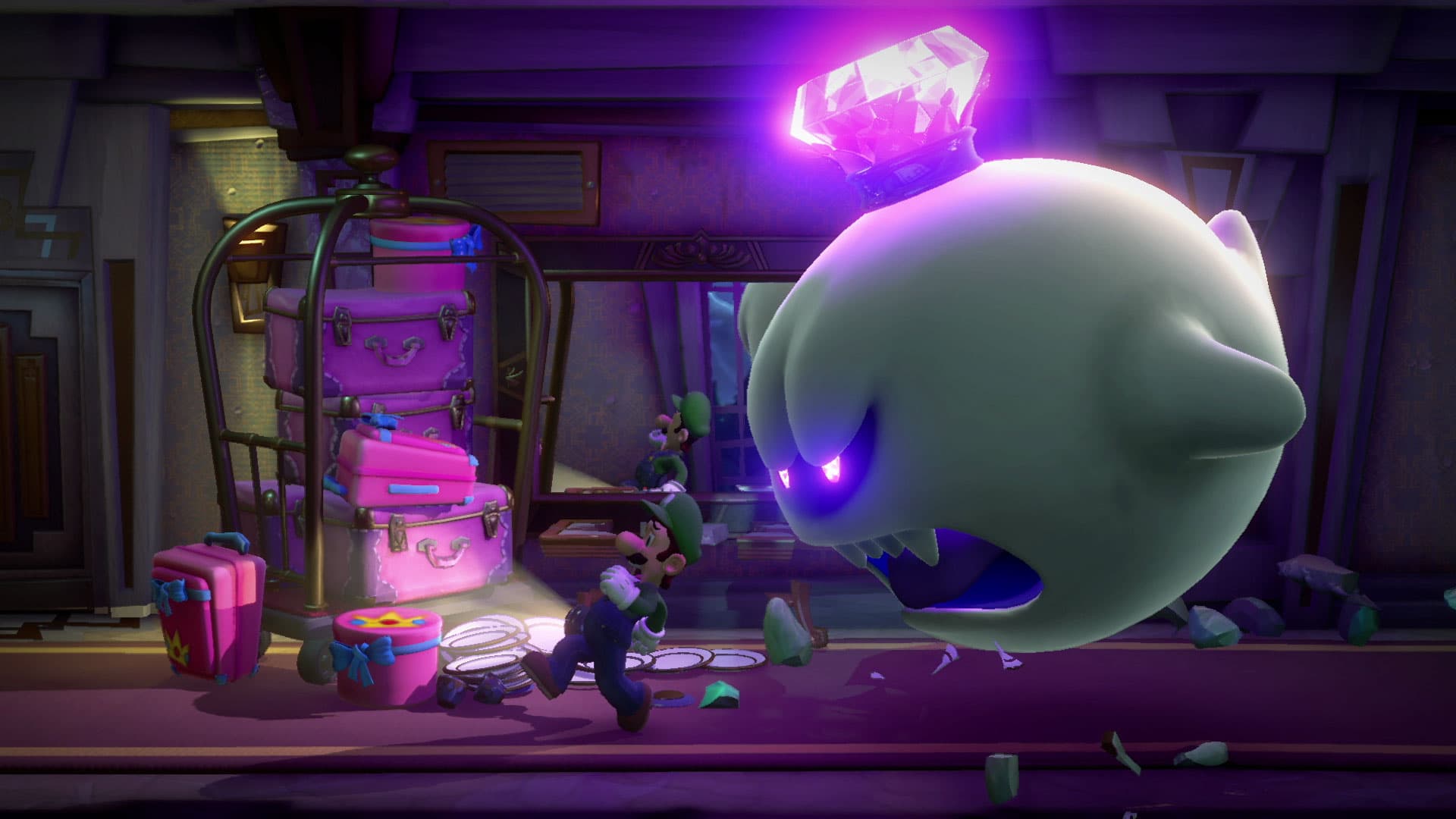 If you're looking for something to enjoy with kids or those with no appetite for horror, look no further than Nintendo for the solution. This ghost vacuuming adventure can be played coop with a friend who plays as Luigi's double, Gooigi. Your goal is to make your way to the top floor of a haunted hotel to rescue Mario, and others along the way, from Hellen Gravely and King Boo. In a classic Nintendo fashion, each floor introduces a unique mechanic or puzzle. There's everything from a movie studio ending in a Kaiju-style boss battle to a medieval castle level topped off with a joust. There's so much to love with Luigi's Mansion 3, with a hefty 10 -13 hour campaign and plenty of collectables to find.
Family friendly
Unique themed levels and mechanics
Full Co-op
Available For: Switch
~Max Mitchelson
Castlevania: Symphony of the Night
One of the granddaddies of the Metroidvania, Symphony of The Night is a classic that everyone should try. It has a killer soundtrack full of gothic melodies, stunning pixel artwork with massive memorable boss battles, many unique skills and abilities, and hidden secrets to find. Be prepared because this masterpiece will turn your world upside down. Though Symphony of the Night is my favourite of the series, many other Castlevania games would make a great choice for the season and are readily available in multipacks. Check out the original Castlevania Collection, Castlevania Advance Collection, or the spiritual successor Bloodstained for more vampire killing action.
Metroidvania Classic
Excellent Presentation
Gothic tone and grotesque creatures
Available For: PS4, PS5, PSP, Xbox 360, IOS, and Android
~Max Mitchelson